Blankos Block Party has some great changes headed your way! Many things were mentioned in the official Blankos Twitch stream earlier this week, including Blankos Brawl, Roadmap, movement changes, drift jump, changes to flying, a new weapon, some updates for builders, a new vibe type and teasers for some future Blankos in a future brawl related party pass! Keep reading to find out more!
Blankos Brawl
The newest game mode coming to Blankos Block Party on March 23rd at 10:30 AM PDT / 17:30 UTC, with an expected 30 minute downtime at 10:00 AM PDT / 17:00 UTC is Blanko Brawl!
The main objective of Blanko Brawl is to outperform the competition in elimination-based Stages and be the last Blanko standing! Only the toughest, most skilled Blanko may be crowned the Brawl Champ!
Blankos Brawl Stages each consist of 1 of 3 game modes, racing, shooting, or vibe collect; and given how many players the Brawl starts with, you'll either be loaded into a Team Stage or a Qualifier Stage (FFA). Players who lose in these Stages don't make the cut and are eliminated. Once the competition comes down to just a few players, the Finale Stage begins! The stakes are high now – only one of you will make it to the Winner's Circle!
Pins
Pins are a way of recognizing players for accomplishing certain tasks within Blanko Brawl. Pins are ranked by bronze, silver, or gold and both the tiers of, and rewards given from, these pins directly represent the difficulty of the accomplished task.
Leaderboards
What better way to instill additional competition than with Blanko Brawl leaderboards? This new addition to the Desk will ensure you have the motivation to be on your A-game, every game! The leaderboards track stats such as wins, gold pins earned, and KO's. How high your stats are in each category dictates your placement on the leaderboards. And for those of you who prove your skills and rise to the top, Mythical Games have got special rewards for you!
New Pre-match Lobby
Out with the old and in with the new! Mythical Games have a brand new pre-match lobby for you all to hang out in before a Stage starts. After disembarking the Party Bus, players can groove on the dance floor, hop to the top of the bus stop, and have an all out party in the lobby before you're pitted against each other!
Spectator Camera
Upon completing the Brawl Party objective, such as finishing a race or reaching a vibe requirement, you will be put into spectator mode. In this mode, you'll be able to cycle through all the remaining players in the match.
Roadmap
Below is the roadmap that was shown on stream. To hear more about these elements, be sure to rewatch the official Blankos Twitch stream earlier this week.
Movement Changes
With the new movement changes,Mythical Games want to provide more control and purpose to movement. The reason for this is so that you can smoothly do what you intended to do, when you intended for it to happen. To do this, the overall speed of movement has been reduced, as well as the height of jumping. This has side benefits of improving network interpolation and improving both the shooting and racing experience when interacting with other Blankos.
Drift Jump
For this update, Mythical Games are introducing a new mechanic to replace double jumping. By holding down the jump button after a jump or fall, you'll begin to drift jump. Your Blanko will temporarily stall in the air by kicking their feet to stay afloat for a small duration that's dictated by how long you hold down the jump button. Now, you'll more easily be able to time & place your landings!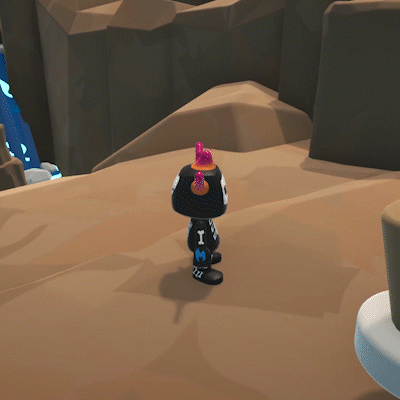 Flying
In this update to flight, all flight accessories are being universalized. This means that regardless of the type of flight accessory you have equipped, be it a jetpack, a pair of wings, or a hot dog balloon, it won't affect how you fly. This puts everyone on the same playing field; and now you don't have to sacrifice style integrity for functionality!
Flying – Hover Mode
We're introducing a new mechanic to the world of flight – hovering! By simply pressing 'C' on keyboard, or left bumper on controller, with a flight accessory equipped, you'll be put into hover mode. In this mode, your height position will remain constant until interrupted; perfect for shooting in the skies! Pay attention to your energy meter, though, as hovering drains energy and you'll start to fall when it reaches zero.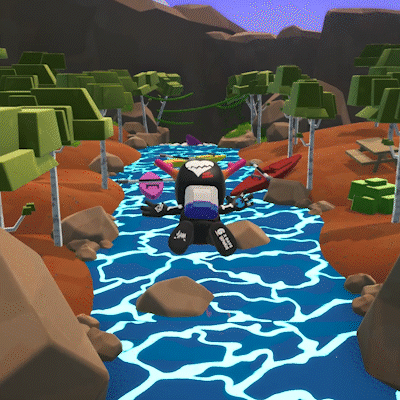 Weapons
Mythical Games are also seeing changes to weapons to help with the movement changes. This means some of your favorite weapons have seen some changes to make them feel more in line with the movement changes. Yes, the Rail Gun is still OP for those of you who are absolute headshot monsters. Also, a new weapon is going to find its way into Block Parties.
New Weapon: Blanko Bat
Introducing the next weapon stepping up to the plate: The Blanko Bat! This bat is best designed for swinging vibes out of your foes, on top of doing a bit a damage!
You can press and hold the fire button to charge up the bat, up to 3 charge states, with each state increasing in damage output once the bat is swung.
Be careful though! You're limited from jumping in the charge up state and can also be cancelled out of your swing.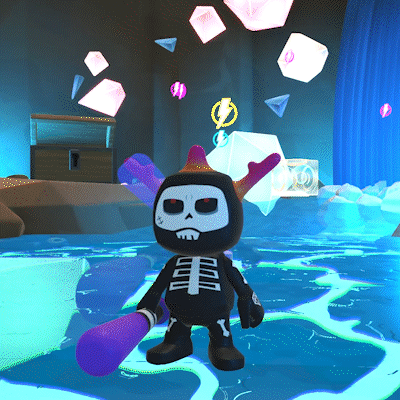 Builders
Builders – Mythical Games have got a lot more ammunition for your creative minds to work with! This update to build mode will come with our Blanko Brawl update on March 23rd, at 11:00 AM PDT / 18:00 UTC! Let's take a look at everything you'll be able to use once this update goes live:
Disappearing Platform
Now you see 'em, now you don't! they're introducing a new prop to the family of Movers: the Disappearing Platform! You'll be able to set if these platforms disappear from touch, or on a timer. You'll also be able to choose if they reappear, or stay gone forever!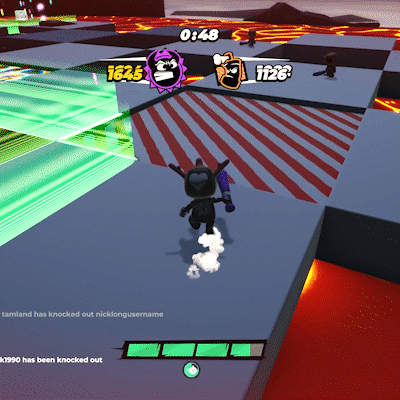 Vibe Cloud Generator
Behold – the Vibe Cloud Generator! This bad boy will spit out vibes all day, every day! This prop is perfect for getting Blankos to go where you want them to go. If it's dangerous, who cares? Do you see how many vibes are over there?!
You'll be able to control how many vibes come out, how long they stick around for, and how often each type of vibe spawns!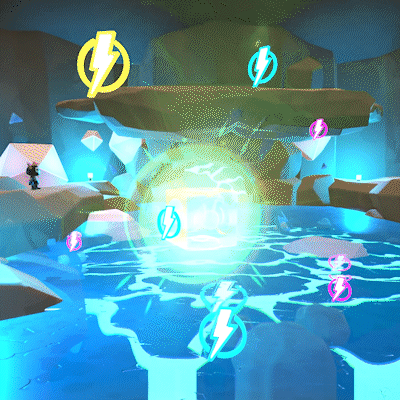 Square Checkpoint
It's cool to be square! This new checkpoint can be resized in both its height and width, independently. This ensures that you have a flexible checkpoint to fit any space you require. It can also be turned invisible – for that seamless progression feel!
Destructible Box
Crack, snap, crash! Destructible props are here in the form of a wooden crate! You can use this prop to hide things like weapons, ammo, and vibes! Also, you can stack them up to block off hidden areas or shortcuts in your map, and leave those players curious enough to crash right through them to discover something new!
Materials & Decorations
Mythical Games have got a slew of new materials and decoration props for you all to enjoy! Really, it's a lot, and they can't wait to see what parties you all manage to make with these!
New Danger Plane Variant
They've got a new variant coming for the Danger Plane prop! Mythical Games are oozing with excitement to share this new green substance with you. And legend has it, this is what gave Ultra B Dino their powers!
Danger Balls – Gravity Switch
Mythical Games have added an option labeled 'Disable Gravity' to our danger balls. This option allows the danger ball to be completely locked to its position, unaffected by gravity or any other force.
New Vibe Type
During the stream, a new type of vibe was introduced which is specific to one type of player. This new type of vibe will add a new layer of complexity to the vibe collect mode while still being accessible for all players.
New Party Pass
During stream, it was mentioned that the next party pass during all these gameplay updates will not feature any NFTs to allow players will have time to adjust and become accustom to all the changes.
The party pass after that was teased and footage was shown of three Brawl related Blankos.
XP Happy Hour
We know you don't want to hear it, but Mythical Games will be removing the XP Happy Hour, temporarily, to return at a later time in a new form. Additionally, they are removing XP and Moola rewards for just playing, but through the new Pins system you will earn XP chips and Moola. Play with whatever character you want and wherever you want, and expend your XP chips as you see fit. XP Chips means more control for you! Stockpile them, spend them right away, it's up to you!